Sail
&
more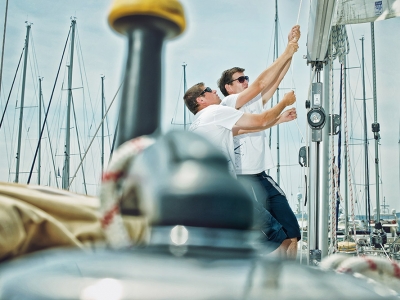 x
Sail & stay villa
Y4Y&VILLA KETI       
Experience excellent combination of sailing and private villa accommodation.
Spend one week sailing among Dalmatian Islands & one week in beautiful Villa "Keti" in Splitska – Island of Brac, enjoying wellness, swimming pool & island of Brac.
Informative offer for 2 person in period between 4th June and 18th June 2016.                     
04.06.-11.06.2016. 2 cabin yacht accommodation on brand new performed Elan E3 -2016        
IN PRICE INCLUDED:   
yacht accommodation    
free berth in home port "Marina Kaštela"   
All-inclusive pack: Transit log (Cleaning, Bed lines (one per person), Towels (one per person), Eco welcome pack, Gas, Diver check),    
Welcome wine, Snorkelling equipment (2 sets), Outboard + 5lit Fuel for Outboard, WiFi, Damage Insurance   
NOT INCLUDED IN PRICE:   
berths outside home port   
fuel    
skipper   
tourist tax   
security deposit in amount od 500 € *   
Security deposit will be used in the case of clients delay on check out, if the client does not fill up the fuel and for damages which are caused by gross negligence. All other damages are covered by deposit insurance which is included in All inclusive   
Transfer from marina Kaštela to Hotel Split               
 11.06.-18.06.2016. Villa "Keti" - Splitska, island Brać           
IN PRICE INCLUDED:   
accomodation in studio apartmant for two persons   
use of swiming pool   
use of  wellness Sauna's (Finish & Turkish), jacuzzi and gym   
use of bikes   
WiFi   
parking   
use of grill   
Final cleaning   
NOT INCLUDED IN PRICE:   
service which are not listed   
x
Sail & Sailing school
Sail & Sailing school with exam for Croatian yacht master licence "C"   
Learn theory, get experience and skippers licence, all in one week.    
NO ADDITIONAL EXPENSE        
Information offer for 1person in period between 14th June and 21th June 2016.        
Price per person: 1.400,00 €     
IN PRICE INCLUDED:    
yacht cabin accommodation in Elan 434 - 2007    
final cleaning, bed linen, towels    
all berths, fuel    
three days transfer to classroom + one day transfer to exam & medical check    
31 hour of theory in classroom    
exam in harbor office Split    
medical check     
three days service of professional skipper     
Note: to organize sailing school, we need at min. 4 participants.    
x
Sail & Dive
We support you diving experience.
To make to most of your sail & dive experience, choose your diving locations in advance and make reservation. That way you are sure everything will be ready and waiting for you.

Diving locations:
Kastela
Split
Omis
Bol - Brac
Milna - Brac
Hvar - Hvar
Vis - Vis
Komiza - Vis
Pomena - Mljet
Zaklopatica - Lastovo
x
Sail & Yoga
Duble Relax!

Heal, refresh, unstress, enjoy…. On your request we will provide you with yoga instructor and joga sets. Or you can just rent yoga sets.

Joga instructor 120 € / day
Joga sets (mat, block & rope) 20 € / week
x
Sail & experience
Sail with sailing world champion! If you have your sailing license but still not enough experience, sail with our best skipper who was silaing world champion. Learn in practice how to sail in and out the marina, how to react in unexpected situation, where to hide during bad weather...
You just have to select period and we will provide you with complete offer.

Skipper teaching service - 120 € / day
Guest
reviews
Saturday, 03 June 2017
Elan E3 "Škrlatica"
[img]http://i.imgur.com/vxqVF0M.jpg[/img] Hans Werner
Saturday, 08 October 2016
Elan E3 "Škrlatica"
Very good sport yacht, but no "traveler". I`ll like to book the boat again. OLEG MINTS
Saturday, 01 October 2016
Elan 50 "Biondi"
Highly recommended. Great service! EMIL CZAJKA
Saturday, 24 September 2016
Elan 333 "Pinky"
Perfect service, as usually. LUDEK VIRGL
Saturday, 17 September 2016
Bavaria 44 "Nicola III"
Very good yacht charter JAROSLAV BLAHUT
Saturday, 10 September 2016
Elan 333 "Pinky"
People are very kind! MORGAN AVETTA
Saturday, 10 September 2016
Bavaria 51 "Petra II"
Thank you! :-) TORSTEN KUPKE
Saturday, 10 September 2016
Bavaria 46 "Mila VII"
Well done :-) GUNTER KIRSTEN
Saturday, 03 September 2016
Elan E3 "Škrlatica"
Fantastic week of sailing! TOBIAS NOORDHOEK
Saturday, 03 September 2016
Elan 36 "Maria"
Nice ship for that rate THOMAS FINA
Saturday, 27 August 2016
Elan 434 "Alina"
Real marine people!! OGNJEN OGNJENOVIĆ
Saturday, 20 August 2016
Sun Odyssey 43 "Kajuma"
Very good condition of the boat. Very nice steff. All was perfect! VIOLETTA MALICKA
Saturday, 20 August 2016
Elan 333 "Tatoo"
Very kind people. Nice sailing region. Should change the front attaching for the genaker on Tatoo. Very nice holidays! JACQUES GREIVELDINGE...
Saturday, 13 August 2016
Sun Odyssey 43 "Kajuma"
Top! JAN HEIN BREVE
Saturday, 06 August 2016
Bavaria 50 "Gyda 1"
Had a great experience. Thank you! MATTHEW BUTTACAVOLI
Latest
news
Sun Odyssey 49 - Divis (owners version)
In season 2017 we have in our fleet owners version of Sun Odyssey 49 (Divis). Year of the yacht is 2007, but 2017 is the first charter year for the vessel. Yacht has 3 cabins and 2 heads, can accommodate 6 persons in cabins and 2 persons in saloon which has convertable table.
more
It is equipped with full battend main sail, teak deck, radar, bow thruster, autopilot, air condition, TV, DVD, CD-MP3, electric toilets, inverter, microwave, coffee maker, cockpit and deck cushions. For more details about yacht check on:  
Sun Odyssey 49 "Divis"
.
Photo by Nikola Belancic.
SAILING IN CROATIA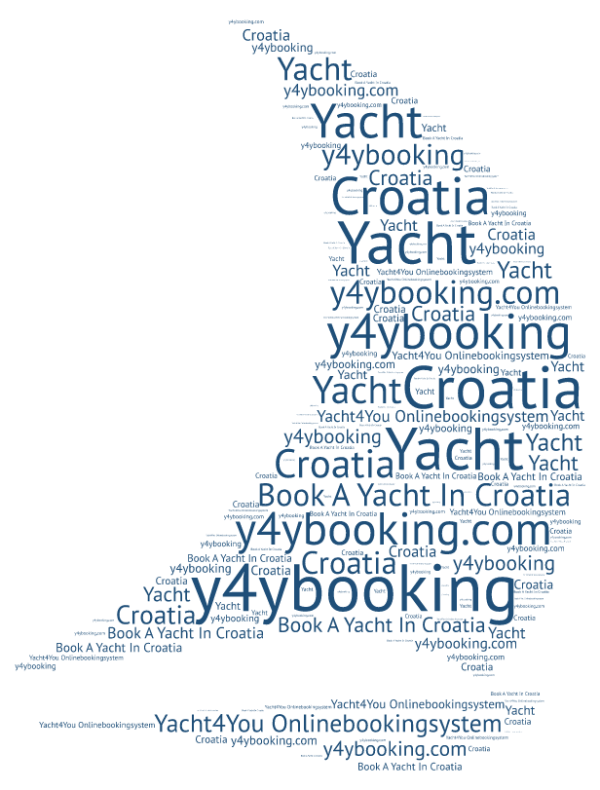 Croatia is a wonderful destination for all sailing enthusiasts, actually the best sailing destination in the world.
y4ybooking.com
more
If you want to relax, to escape from everyday stress, do think about a vacation under sails and about sailing in Croatia. Quiet bays and the magnificent clear blue waters will provide for a retreat of the kind you require for complete relaxation and time out. Wealthy cultural and historical heritage, much of which is under UNESCO protection, will make your vacation more interesting, and the gourmet specialties and a versatile wine chart will delight your palate. Check the best offers for renting a yacht in Croatia on
y4ybooking.com
Book easy on line from comfort of your home.
SAILING
Sailing is relaxation, sports and recreation. Sailing offers a combination of fun and hedonistic delight, a combination of active vacation and relaxation, and repose far away from throng and stress.
more
While sailing you can find enjoyment through different products of this attractive tourist branch:
- Bearboat charter – is appropriate for experienced sailors with a recognized license for vessel navigation in Croatia. In this case the guests rent a yacht, which they navigate independently and with the help of their crew.
- Skippered charter – is appropriate for less experienced sailors and those who want to completely relax during their vacation, and hence prefer to leave navigation to a professional skipper. In this case the guests rent the yacht, and the service of a professional skipper.
Depending on the requirements of the guests, it is possible to engage a Hostess and a professional chef. Additionally, it is possible to sail in form of: Flotilla sailing, namely sailing in a group, adventure sailing to Malta or Greece, Regatta sailing – sailing competition, and similar.
By all means, be among those who have at least once in their life experienced the spell of sailing, and do come at least once for sailing in Croatia, the best sailing destination in the world.
Bavaria 46 - equipment for regatta
Now you have possibility to rent equipment for regatta for Bavaria 46 -Srna V.
Regatta equipment package includes: semi regatta sails, folding propeller, gennaker and drifter. Price of equipment package with instalation on yacht is 450 €.
We are waiting for you inquiry.
CHARTER MANAGMENT
Dream to have your own boat... achieve the dream has never been easier.
We offer you the charter management program, which allows you to own a vessel with minimal costs.
more
Elan 50 Impression "Azia"
In season 2017 we will have brand new fully equipped Elan 50 Impression "Azia".
Book your week and enjoy in comfort which will provide you additional equipment such as of air-condition, LCD TV, ambiental underwater lights, deck cushions...
twICE 2016
FLEET PHOTO GALLERY
History of Kastela
In 7th century Croats settled on the slopes of Kozjak and established their settlements, as evidenced by the tiny church.
more
Trogir and Split noblemen and church dignitaries were the approval of the Venetian authorities built on the coast, or on the rocks - castles - to protect crops and peasants.These are determined mansions, castles, the mainland really acted as a fortress with its towers, loopholes, movable bridges, while the sea built up in the style of Renaissance villas with wide windows and balconies.Around 16 castles emerged seven villages: Kastel Stafilic, Kastel Novi, Kastel Stari, Kastel Luksic, Kastel kambelovac, Kastel Gomilica and Kastel Sucurac. They grew, developed and finally merged into the city of Kastela, but are retained in their cores to date authentic Dalmatian architecture.

Picture: http://www.booking.com
Dalmatian dessert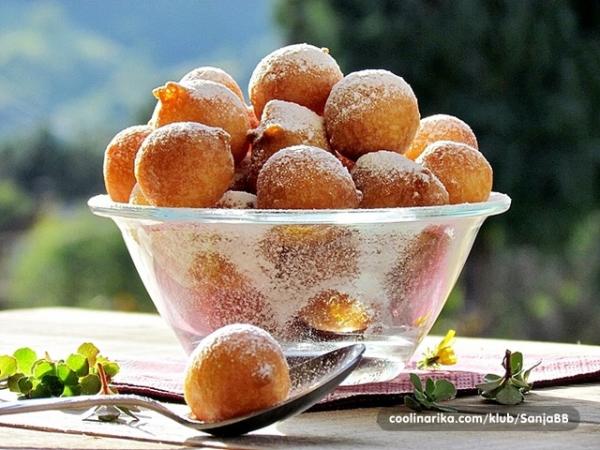 Fritule are famous Croatian dessert, that looks like small donuts. Making them is very simple.
more
4 dl of yogurt, 2 eggs, 2 spoons of sugar, 2 packets of vanilla sugar,pinch of salt, 20 spoons od smooth flour and 1 packet of baking powder intervene in a smooth mixture. Make balls of the mixture and fry them in hot oil. When golden brown on both sides, remove and if you like sprinkle them with sugar.
Picure: http://www.coolinarika.com
How
to
reach
us
For those who want to arrive by train the most important information is that there is a possibility of unloading at the newly opened station in Kastel Gomilica. For more information about timetables of trains and stops

Near Marina Kastela (8 km) there is Split Airport. If on your charter holiday you arrive by plane you will need the transfer. For safe transportation to our base please send inquiry and we will arrange the transfer for you. But if you want to take care of transfer yourself you have two options, to find a taxi or use the bus line 37 which runs between Trogir - Split every 20 minutes. The bus stop is just outside the airport, drive to the bus station place - Kastel Gomilica. For more information about the airport visit

If you want to arrive to your holiday by boat, Split has international shipping lines from Ancona and Bari harbor. The large number of shipping companies carries passengers on these lines.International Airport for maritime transport is located in the center of Split. For details on sailing times and prices check the websites

If travelling by car the best choice is the highway A1. Exit the highway at Dugopolje, ride in direction of Solin / Trogir. After leaving Solin drive down the fast road in the direction of Trogir, after about 1.5 km turn right towards Kastel Gomilica. Details of the itinerary are available on www.map24.com. All the details about the condition of the roads www.hak.hr and Croatian highways www.hac.hr